Traffic Arms for Your Commercial Property in New Jersey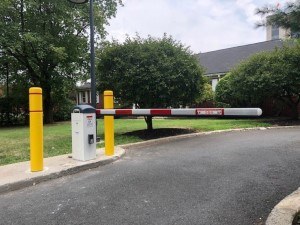 New Jersey traffic arms are most commonly used in parking lots and garages. They're also used in other commercial applications, including airports and public facilities. If you're looking to enjoy the kind of security and protection that only traffic arms can offer, you need to look to Metro Access Systems today. Our experienced access control company provides a line of top-rated products, and we're dedicated to providing quality installation services to ensure you and your team members enjoy guaranteed protection in your work area.
These units can be opened automatically with a keypad, telephone entry system, or card system, or they can be manually controlled from within a kiosk. They're essential installations in traffic-heavy areas for a number of reasons:
They'll prevent unauthorized vehicles from entering your workplace
They'll provide accountability for everyone in the vicinity
They'll allow better protection and peace of mind for your team members
Quality Traffic Arm Products and Services to Ensure the Best Security
When it comes to your security systems, you don't want to skimp on quality. After all, a shoddy product may not provide the protection you and your employees need. So, it's important that you come to our team for all your access system needs. We offer top-rated products and services that are guaranteed to provide the quality of security and protection you need.
The professionals at Metro Access Control can handle installation, maintenance, and repair services for all types of traffic arms and swinging gates, and we guarantee your complete satisfaction with all of the work and the New Jersey Automated Gates that we provide. We'll work with you to find the perfect models of traffic arms and swinging gates to help you ensure the highest level of safety and security for your New Jersey property.
Get the Right Entry System to Enjoy the Easiest and Most Secured Access
Gone are the days when traffic arms had to be operated by a dedicated individual. Nowadays, you can pick from a variety of access systems that save on payroll and ensure the most dependable security by eliminating the issue of human error. Just a few options you have to pick from for your traffic arms include the following:
Keypad
Telephone entry system
Card system
Look to Our New Jersey Team for Quality Traffic Arm Products
To enjoy the best protection and security in your workplace, you need to invest in quality access system products. That's why you need to look to none other than Metro Access Systems when you're in the market for traffic arm products and installation services. You can also look to us to provide many other quality products for your security—swinging gates, barriers, and more!
Recent Traffic Arm Projects
Barrier Arm Installation At RWJ Hospital
Recent Articles
How To Secure Access To Your Property In New Jersey

When it comes to securing your building or residential community in New Jersey, there are various systems available that will do the job very effectively. You can control the access of all vehicle traffic starting at the entrance or driveway and follow up with a card reader system, a telephone entry system, or an intercom with cameras.

Driveway Gate Installation – Safety, Security and Peace of Mind

As a New Jersey homeowner, you want to do whatever it takes to protect your house, as well as the people and property inside. One essential measure that you can take is getting your driveway gate installation taken care of. While some people think this sounds a bit extreme, there really is no way you can go too far when it comes to safeguarding your loved ones.
If you are looking for New Jersey Traffic Arms then please call 732-742-9230 or complete our online request form.