How To Secure Access To Your Property In New Jersey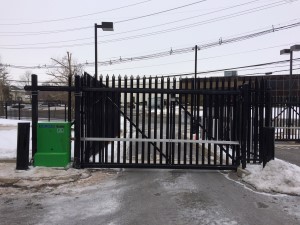 When it comes to securing your building or residential community in New Jersey, there are various systems available that will do the job very effectively. You can control the access of all vehicle traffic starting at the entrance or driveway and follow up with a card reader system, a telephone entry system, or an intercom with cameras.
These access control systems will protect your property, assets, employees, and private records. Here is a short breakdown of all the access control options available today and how they might be useful to your particular security needs.
Automatic Security Gates
Today's state-of-the-art electric automatic gate systems are easily controlled remotely. You can also get automated entry gates with sensors, photo eyes, and safety edges to protect the gate and any vehicles that might inadvertently block the path of the gate. You can connect alarms and warning lights which notify you if the gate is opened.
Automatic gates are often installed to control access to:
Neighborhoods
Condo communities
Multi-tenant communities
Industrial businesses
Hospitals
Schools & universities
Government & municipal buildings
Residential estates
Warehouses
Airports
Remote Control Entry Systems
Anytime you need to control who goes through a door, a remote control entry system is the best option. This equipment is available in different forms such as:
Digital Control Door Lock Keypads - Hardwired keypads are one option to control who goes in and out of a door. You can program more than one combination in so that each person has a unique code. It can be set to open or close for a pre-determined period. You can also provide a temporary code when needed.
Telephone entry system - This is a perfect solution which only gives access to those who communicate with you by telephone or cell phone. They are easily programmable and will alarm you of trouble.
Intercom access system - Instead of asking for permission to enter via a telephone, a visitor can use the intercom. The best set-up includes the installation of surveillance cameras at the entry point so you can determine how many people are actually entering the area.
Card reader access system - Card reader access systems will keep track of the time and day that each person with a card enters and exits the building. This report is very useful to the security of a business for many reasons. They are often installed on interior doors where privacy and security are a concern.
The access control entry systems which can be operated remotely make it easy to grant or deny access. They can be installed with or without cameras, and there are those that will tie into an existing security system.
By limiting access to your business starting at the driveway and throughout the building, you will be able to decide who can go where and when they can go there. This provides a safer work environment for employees, decreases vandalism, and minimizes privacy theft. Call Metro Access Control LLC for more information today!
If you would like to learn more about Access Control Security Systems in New Jersey, please call 732-742-9230 or complete our online request form.