Elevating Home Entrances: The Allure of Residential Iron Driveway Gates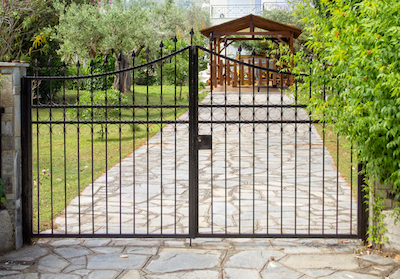 Residential iron driveway gates are a stylish and practical addition to any New Jersey home's exterior. These gates are not only functional but also serve as a statement piece that enhances the overall curb appeal. Crafted from durable iron, these automated gates offer a balance between security and aesthetics, providing homeowners with a sense of safety and sophistication.
The intricate designs and ornate detailing of residential iron driveway gates can complement a variety of architectural styles, from traditional to modern. These gates can be customized to match the specific preferences and aesthetic of the homeowner. The robust construction of iron ensures longevity and resistance to the elements, making these gates a long-term investment. Beyond their aesthetic appeal, these gates also provide an additional layer of security by controlling access to the property. Whether swung open or operated electronically, residential iron driveway gates create an elegant entrance that leaves a lasting impression on visitors while safeguarding the privacy of the homeowners. Contact Metro Access Control for iron driveway gates and improve your New Jersey home.
Guardians of Elegance and Security: The Advantages of Iron Driveway Gates
Installing an iron driveway gate for your home offers a host of compelling benefits. These gates seamlessly blend security and aesthetics, enhancing both the visual appeal and safety of your property. Crafted from durable materials, iron gates provide long-lasting protection against weathering while adding a touch of timeless elegance to your home's exterior. Beyond their aesthetic charm, these gates act as a deterrent to unauthorized entry, ensuring your privacy and peace of mind. With customizable designs to suit various architectural styles, an iron driveway gate not only increases your property's value but also leaves a lasting impression on guests, making it a smart and sophisticated choice for homeowners seeking to elevate both security and curb appeal.
Choosing the Right Motion: Swing or Slide Iron Driveway Gate
When choosing between swing and slide iron driveway gates, several factors come into play. Swing gates evoke a traditional charm as they open inward or outward like a door, creating a grand entrance. They are well-suited for properties with ample space and can be a focal point of architectural beauty. On the other hand, slide gates are a practical choice for properties with limited space, as they glide horizontally along the fence line. They offer efficient functionality without encroaching on surrounding areas.
Ultimately, the decision between the two types depends on your property's layout, aesthetic preferences, and space availability, ensuring that your iron driveway gate not only enhances security but also aligns with your distinctive style. Contact Metro Access Control for driveway gates including iron or wood driveway gates, and rest assured that you'll be beyond satisfied with the outcome.
If you are looking for New Jersey Iron Driveway Gates then please call 732-742-9230 or complete our online request form.