New Jersey Traffic Arms and Swinging Gates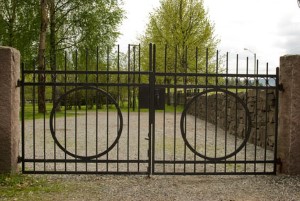 New Jersey Traffic arms and swinging gates are most commonly used in parking lots and garages. They're also used in other commercial applications, including airports and public facilities. These units can be opened automatically with a keypad, telephone entry system, or card system, or they can be manually controlled from within a kiosk.
The professionals at Metro Access Control can handle installation, maintenance, and repair services for all types of traffic arms and swinging gates, and we guarantee your complete satisfaction with all of the work and the New Jersey Automated Gates that we provide. We'll work with you to find the perfect models of traffic arms and swinging gates to help you ensure the highest level of safety and security for your New Jersey property.
Give us a call today to start your traffic arm or swinging gate installation.
About Swinging Gates
Swinging gates can have a simple, rugged design, or they can be elegant and attractive design that is as beautiful as it is functional. While swing gates are most frequently used for commercial properties, like parking lots and garages, they can also be used for residences in New Jersey with great success.
Our professional automated gate technicians will work with you to find the right design for your property, whether it's commercial or residential, and we can take care of every aspect of the job. Our swinging gates will help you increase the security of your property, and our professionals will make sure that they're always in great condition.
Benefits of Swinging Gates
They're made from very durable materials.
We offer a full line of gate opener products and automation systems.
We have a complete line of communication, access control, and safety accessories.
Traffic Arms
Traffic arms are a great way to manage traffic that is entering or exiting your property in New Jersey. Managing a larger commercial property can be difficult, and keeping tabs on who has access to your property can be a major hassle, but traffic arms can help make it much simpler. They're a great way to help you keep your property safe and secure.
Our team of experts has extensive experience designing, installing, and maintaining integrated security systems that are designed for the precise needs of our clients. Traffic arms will help you control traffic flow, and our professionals can make sure that your property is as secure as possible.
Traffic arms are perfect for properties like:
Multifamily residents
Industrial parking areas
Office building parking areas
Parking garages
Our New Jersey Traffic Arms and Swinging Gates Provides These Detailed Services
Traffic Arms
Swing Gates
Traffic Gate
Electric Gates
Automatic Gates
Swinging Gates
Driveway Gates
Automatic Swing Gates
Security Gates
Security Gate
Traffic Arms in New Jersey
New Jersey Swing Gates
Recent Articles
If you are looking for New Jersey Swing Gates then please call 732-742-9230 or complete our online request form.