Swinging Gates to Keep Your New Jersey Property Protected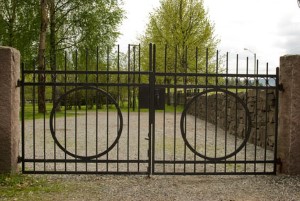 Keeping the flow of traffic into your New Jersey business in check is essential for maintaining your security, and a great investment for that purpose is a swinging gate. To enjoy the most dependable protection for your New Jersey business, you need to look to none other than Metro Access Control. Our experienced access control company offers a line of unbeatable products and services that are guaranteed to provide the quality of privacy and protection you need to ensure your workplace remains safe and secure.
A swinging gate will give you full control over what vehicles can and can't enter your workplace, allowing you to enjoy a number of peace-of-mind benefits:
They'll prevent unauthorized vehicles from entering your workplace
They'll provide accountability for everyone in the vicinity
They'll allow better protection and peace of mind for your team members
About Swinging Gates
Swinging gates can have a simple, rugged design, or they can be an elegant and attractive design that is as beautiful as it is functional. While swing gates are most frequently used for commercial properties, like parking lots and garages, they can also be used for residences in New Jersey with great success.
Our professional automated gate technicians will work with you to find the right design for your property, whether it's commercial or residential, and we can take care of every aspect of the job. Our swinging gates will help you increase the security of your property, and our professionals will make sure that they're always in excellent condition.
Reasons to Come to Us for Your New Singing Gate
When you're ready to get a swinging gate installed on your New Jersey commercial property, you need to make sure you look to us to handle the work. After all, we offer a line of top-rated products that are guaranteed to provide unbeatable security thanks to the many great qualities they have to offer:
They're made from very durable materials.
We offer a full line of gate opener products and automation systems.
We have a complete line of communication, access control, and safety accessories.
Look to Our New Jersey Team for All Your Access System Needs
When you need a new swinging gate installed, you need to call on the pros at Metro Access Control. Our New Jersey automated gate professionals offer a line of quality products that are designed to provide the protection you need for your business. Call us today if you're in the market for a swinging gate, traffic arm, or any other automated entry system.

Our New Jersey Swinging Gates Provides These Detailed Services
Swing Gates
Electric Gates
Automatic Gates
Swinging Gates
Driveway Gates
Automatic Swing Gates
Security Gates
Security Gate
New Jersey Swing Gates
Recent Articles
How To Secure Access To Your Property In New Jersey

When it comes to securing your building or residential community in New Jersey, there are various systems available that will do the job very effectively. You can control the access of all vehicle traffic starting at the entrance or driveway and follow up with a card reader system, a telephone entry system, or an intercom with cameras.

Driveway Gate Installation – Safety, Security and Peace of Mind

As a New Jersey homeowner, you want to do whatever it takes to protect your house, as well as the people and property inside. One essential measure that you can take is getting your driveway gate installation taken care of. While some people think this sounds a bit extreme, there really is no way you can go too far when it comes to safeguarding your loved ones.
If you are looking for New Jersey Swing Gates then please call 732-742-9230 or complete our online request form.