Remote Entry Systems in New Jersey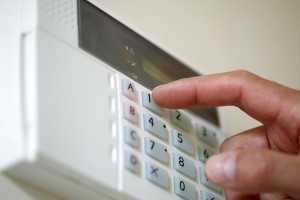 At Metro Access Control, we provide a full line of remote access systems that can be designed to fit your exact needs. Whether you're using a New Jersey Remote Entry System for your New Jersey home or a commercial or industrial property, our professionals will be able to design the systems to your exact specifications and ensure that they're completely functional. We can also provide repairs and maintenance services for the systems.
Telephone entry systems and intercoms will give you a number of great benefits. They can keep your property more secure, and they'll also make entering your home or commercial property much easier—plus, our New Jersey Automated Gates will make it easier for you to keep of track of all of the people who are entering your property.
Telephone Entry Systems
Telephone entry systems are ideal for small, medium, and large commercial or industrial facilities, or for any applications that require only telephone entry access.
These systems can provide visitors access control to all kinds of buildings in New Jersey, including:
Apartment buildings
Gated communities
Condominiums
Office buildings
Telephone entry systems work by allowing tenants to communicate directly with visitors, at which point they may either grant or deny access. They can use a telephone land line or a cell phone, and the entry can be provided or denied with the touch of a button. We can install telephone entry systems quickly, and we can guarantee your complete satisfaction with all of the work we provide.
Some features of our telephone entry systems include:
Alternate telephone numbers available to reach the tenant
Easily programmable
Versatile alarm and trouble reporting capabilities
One telephone line can support up to five units
Multiple languages available
Intercom Access
Intercom entry systems work much like telephone systems, except that the tenant is contacted through a built-in intercom rather than a telephone. Our professionals can provide intercom entry systems for New Jersey buildings or facilities of any size, and we can make sure that they're fully functional at all times. We'll help you select the intercom models that are right for your property, and we'll take care of every aspect of the installation of this system.
Our intercom access systems have the following features:
May be made from a number of different materials to provide you with the appearance and durability that you're looking for.
Can come with or without cameras.
Available in a number of different shapes and sizes.
May include proximity readers for maximum efficiency
Intercom access systems are a great way to enhance your property's security and make entrance efficient and manageable.
Our New Jersey Remote Entry Systems Provides These Detailed Services
Remote Entry Systems
Remote Access Systems
Entry Systems
Remote Entry
Telephone Entry Systems
Electronic Entry Systems
Gate Entry Systems
Intercom Access Systems
Intercom Entry Systems
Phone Entry Systems
Entry Systems in New Jersey
New Jersey Entry Systems
Recent Articles
How To Secure Access To Your Property In New Jersey

When it comes to securing your building or residential community in New Jersey, there are various systems available that will do the job very effectively. You can control the access of all vehicle traffic starting at the entrance or driveway and follow up with a card reader system, a telephone entry system, or an intercom with cameras.

Driveway Gate Installation – Safety, Security and Peace of Mind

As a New Jersey homeowner, you want to do whatever it takes to protect your house, as well as the people and property inside. One essential measure that you can take is getting your driveway gate installation taken care of. While some people think this sounds a bit extreme, there really is no way you can go too far when it comes to safeguarding your loved ones.
If you are looking for New Jersey Remote Entry Systems then please call 732-742-9230 or complete our online request form.