Built Tough Crash Rated Barriers in New Jersey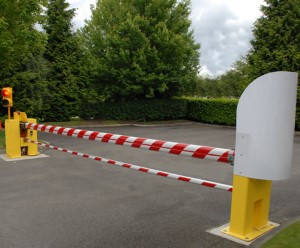 Metro Access Control can provide and install crash rated materials and products for commercial, industrial, and government applications. Our New Jersey Crash Barriers are often used for power plants, chemical plants, and government buildings.
Crash ratings, known in the industry as K-rating, are a Crash Test Certification issued by the DOS (Department of State) to any of these structures that measures the stopping power of barrier in relation the speed and weight of the oncoming vehicle. The K-rating of the barrier is by having a 15,000 pound vehicle impact the barrier from a perpendicular direction.
In order for New Jersey Automated Gates to be DOS certified, the penetration of the vehicle must not be more than 39 inches beyond the inside edge of the barrier.
Some of our crash rated products include:
Crash rated fences
Crash rated bollards
Crash rated gates
Crash rated barriers
HySecurity StrongArm M30 Crash Rated Barrier
The M30 (K4) is an ideal solution for residential gates when it comes to anti-ram crash systems. It's perfect for situations with 12-24 foot clearance openings and works with the three various foundations for quick and cost-effective installation.
It works with a 6-8 second open and close time or 5-7 second Emergency Fast Operate setting, both times depend on arm length. The system is user-friendly with options like the Smart Touch Controller with 70+ configurable settings, Smart Touch keypad and 32 character, OLED display or a PC using S.T.A.R.T. software - and complete with a 5-year warranty.
Crash Rating Specifications
K4: This rating is assigned to barriers which met the crash rating standards with a vehicle traveling at 30 mph.
K8: This rating is assigned to barriers which met the crash rating standards with a vehicle traveling at 40 mph.
K12: This rating is assigned to barriers which met the crash rating standards with a vehicle traveling at 50 mph.
These test ratings have been used since 2000.
The crash ratings of fences and gates are usually determined by their cable and/or steel beam reinforcements, while other barriers achieve their ratings with enhanced materials and foundations. Our professionals can work with you to decide on what level K-rating you need for your New Jersey property, and we can also handle every aspect of the installation and any repairs or maintenance services you may need for your crash rated barrier.
Crash Rated Barriers Materials
Metal: cast iron, stainless steel, carbon steel, aluminum, and bronze are all common and highly-effective materials.
Reinforced Concrete: this can be either cast-in-place or precast and will usually incorporate steel reinforcements.
Other Materials: some other materials include natural stone, wood, and industrial-grade plastics like high density polyethylene.
Crash Rated vs. Engineer Rated Barriers
While crash-rated barriers have been crash tested and certified by a third-party crash test facility, engineer-rated barriers have been designed and analyzed with computers, but not crashed or certified to DOS specifications.
Engineer-rated barriers are rated based on empirical data received from the results of crash-rated systems, and they also use computer simulations which can mimic variations of a crash test. Engineer-rated systems can also be virtually tested for many site-specific conditions, which gives them one advantage over crash-rated barriers. These simulated tests have been accepted as a way to enhance test realism and replication, and engineer-rated barriers are often an excellent choice for property owners in New Jersey.
Our New Jersey Crash Barriers Provides These Detailed Services
Crash Rated Barriers
Crash Barriers
Safety Barriers
Traffic Barriers
Safety Bollards
Barrier Gates
Road Barriers
Concrete Barriers
Driveway Barrier
Bollards
Crash Barriers in New Jersey
New Jersey Crash Barriers
Recent Crash Barrier Projects
Sea Girt Crash Rated Barrier Install
Recent Articles
How To Secure Access To Your Property In New Jersey

When it comes to securing your building or residential community in New Jersey, there are various systems available that will do the job very effectively. You can control the access of all vehicle traffic starting at the entrance or driveway and follow up with a card reader system, a telephone entry system, or an intercom with cameras.

Driveway Gate Installation – Safety, Security and Peace of Mind

As a New Jersey homeowner, you want to do whatever it takes to protect your house, as well as the people and property inside. One essential measure that you can take is getting your driveway gate installation taken care of. While some people think this sounds a bit extreme, there really is no way you can go too far when it comes to safeguarding your loved ones.
If you are looking for New Jersey Crash Barriers then please call 732-742-9230 or complete our online request form.