Controlled Access with New Jersey Pedestrian Turnstiles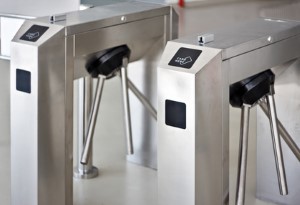 Whether your commercial property in New Jersey need simple, manually operated pedestrian turnstiles that won't be used more than a few times a day or you're looking for a completely automated turnstile system that will be used continuously, the professionals at Metro Access Control can help.
We can help you decide on the best New Jersey Pedestrian Turnstiles for your property and your uses, and we can handle every aspect of the installation. Our professionals are all extensively experienced, and we can guarantee your complete satisfaction with all of the work that we provide. Our New Jersey Automated Gates offers a number of different types and styles of turnstiles, and we can make sure that you're getting the absolute best for your commercial or industrial property.
What to Consider When Selecting a Pedestrian Turnstile
Do you need an automatic or a manual turnstile?
How frequently will your turnstile be used?
Should you have a full height turnstile or half-height turnstile?
What stile of fence or other accessories will you require?
Some of the accessories you may need for a turnstile at your New Jersey property include:
Warning and information signs
DDA gate for persons with disabilities
Pedestrian guard rails
Trombone style rotors (available as an alternative to bar rotors)
Lights
Colored finishes
Half-Height Turnstiles
Tripod and half-height turnstiles can be used for either interior or exterior uses. They're most typically used in places that do not require a high level of security. They allow passage in both directions, and they can also be electronically controlled.
Our half-height turnstiles consist of a carbon steel cabinet with stainless steel rotors. They can be mounted on the floors or the walls of your commercial or industrial property in New Jersey. They can help you control the flow of of foot traffic, and they're commonly used in places like swimming pools, parks, and shopping areas.
Full-Height Turnstiles
Full-height pedestrian turnstiles are designed for use in areas that require higher levels of security. Often, they're used in conjunction with security gates to provide pedestrian and vehicular control. We have single and twin cage models available.
Features of Our Turnstiles
Rust-free finishes available
Heavy duty reliable operation
Long lifespan
Manufactured to spin in case of power failure to allow safe exit
Monitor pedestrians with reports on activity
Available in single and double configurations
Full- and half-height models available
Access Control
Our turnstiles have a multi-logic controller to allow integration with a number of different access control systems, including:
Push button free exit/entrance
Proximity readers
Car swipe systems
Coin or token systems
Our New Jersey Pedestrian Turnstiles Provides These Detailed Services
Pedestrian Turnstiles
Turnstiles
Security Turnstiles
Perey Turnstiles
Optical Turnstiles
Security Turnstile
Boon Edam Turnstiles
Gunnebo Turnstiles
Electronic Access Control
Controlled Access Turnstiles
Pedestrian Turnstiles in New Jersey
New Jersey Pedestrian Turnstiles
Recent Articles
How To Secure Access To Your Property In New Jersey

When it comes to securing your building or residential community in New Jersey, there are various systems available that will do the job very effectively. You can control the access of all vehicle traffic starting at the entrance or driveway and follow up with a card reader system, a telephone entry system, or an intercom with cameras.

Driveway Gate Installation – Safety, Security and Peace of Mind

As a New Jersey homeowner, you want to do whatever it takes to protect your house, as well as the people and property inside. One essential measure that you can take is getting your driveway gate installation taken care of. While some people think this sounds a bit extreme, there really is no way you can go too far when it comes to safeguarding your loved ones.
If you are looking for New Jersey Pedestrian Turnstiles then please call 732-742-9230 or complete our online request form.