Vehicle Barriers in New Jersey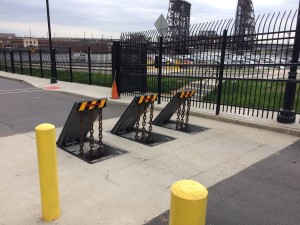 Keeping your New Jersey property safe and secure is a major priority, and our New Jersey Automated Gates help you control who does and does not have access to your property. Our vehicle arrest systems and wedge barriers are two of the most effective ways Metro Access Control can help you keep any unwanted vehicles off of your property.
Both of these devices will keep nay unwanted vehicles from being able to enter any space where they are unwanted, and they're indispensable tools when it comes to vehicular security. Our professionals can work with you to determine which New Jersey Vehicle Barriers are right for your security needs and your property, and we can handle the entire installation job.
Vehicle Arrest Systems and Wedge Barriers Are Frequently Used For:
Median barriers
Work zone protection
Truck escape ramps
High occupancy vehicle lane closures
Many of these units can be moved as necessary to be implemented where they are needed at different times.
Vehicle Arresting Barriers
Vehicle arresting barriers are simple and versatile non-lethal structures that will safely decelerate and stop any vehicle traveling at any speed. Originally designed to bring high-speed air-crafts to a controlled stop with minimal damage, these systems use metal bending to absorb the energy of the oncoming vehicle while breaking its acceleration.
These barriers care assembled across entire roadways in New Jersey and consist of a net with a continuous cable running through it near the top and bottom. The ends of that net are attached to energy "absorbers", which are self-contained units housing spool of specially design steel alloy tapes. When a vehicle hits the net , the steel tape is pulled through, and it creates sufficient drag to bring a vehicle to a stop without damaging it.
Vehicle arresting barriers can safely stop vehicles that weigh up to 90,000 pounds traveling at speeds of 90 mph or more. They are commonly used for road construction projects throughout New Jersey and the US.
Wedge Barriers
Wedge barriers have become a staple in the security industry because they've been exceptionally successful. Wedge barriers are by far one of the most effective ways to keep any piece of property secure and prevent any unwanted vehicles from entering.
The wedge barriers we carry include crash-rated, hydraulic, or electric wedge barriers; high- or low-security barriers; broad or narrow traffic lane space; and many other design specifications. We'll be able to ensure that you're getting the best wedge barriers for your specific New Jersey property and your specific project. We have extensive experience in this field, and we'll do whatever it takes to guarantee you're complete satisfaction.
Our New Jersey Vehicle Barriers Provides These Detailed Services
Vehicle Barriers
Vehicle Barrier
Bollards
Wedge Barriers
Traffic Barriers
Concrete Barriers
Barrier Gates
Road Barriers
Barricades
Wedge Barrier
Vehicle Barriers in New Jersey
New Jersey Vehicle Barriers
Recent Articles
How To Secure Access To Your Property In New Jersey

When it comes to securing your building or residential community in New Jersey, there are various systems available that will do the job very effectively. You can control the access of all vehicle traffic starting at the entrance or driveway and follow up with a card reader system, a telephone entry system, or an intercom with cameras.

Driveway Gate Installation – Safety, Security and Peace of Mind

As a New Jersey homeowner, you want to do whatever it takes to protect your house, as well as the people and property inside. One essential measure that you can take is getting your driveway gate installation taken care of. While some people think this sounds a bit extreme, there really is no way you can go too far when it comes to safeguarding your loved ones.
If you are looking for New Jersey Vehicle Barriers then please call 732-742-9230 or complete our online request form.