Card Entry Systems in New Jersey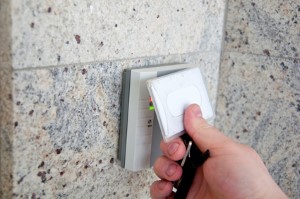 In buildings with high traffic, like office buildings, governmental buildings, hotels, or other commercial and industrial properties, New Jersey Card Entry Systems can be extremely beneficial. Not only do these systems help keep the building secure and allow only authorized personnel to various rooms or sections of the property, but they also for quick and easy passage with as little hassle as possible.
At Metro Access Control, our professional team of security experts can work with you to implement a key card system that will be perfectly functional and efficient. The system will be based on your particular property and you precise needs. We can guarantee your complete satisfaction with all of the New Jersey Automated Gates we provide.
Proximity Card Readers: Maximum Efficiency
Proximity card readers work by constantly transmitting a low-level fixed radio frequency. The radio frequency gives energy to the card, and when the card comes within a certain range of the reader, the radio frequency will turn on a microchip that contains a unique ID code. Within a matter of nanoseconds, the card is turned on, transmits the code to the reader, and the door is unlocked.
The main advantage of proximity card readers is their simplicity. As long as a person has their card on them, they'll be given immediate access to whatever parts of your New Jersey commercial property they're authorized for.
Our professional experts can install, repair, and maintain your proximity card reader system.
Benefits of Proximity Card Readers
Operate on low power for extended operation.
Designed to provide protection against card or reader tampering
Built to withstand harsh weather environments
Visual confirmation of successful reads
Designed to be unobtrusive and easy to use
Swipe Card Access Control Systems
Our swipe card systems utilize state-of-the-art software and hardware to provide integrated access control systems for education, health care, banking, government, retail, and other commercial and industrial clients in New Jersey. We design, install, and provide services to these systems, and we can guarantee that your access system is perfectly suited to your needs and functioning well at all times.
Our swipe card access systems provide the following benefits:
Secure access to facilities
A safer work environment
Increase operations efficiency by managing people for effectively
Deter violence, vandalism, and theft
Doors can be locked and unlocked according to preset parameters
Provide access system audit reports
Reduce the cost of security
Provide photo identification for employees
Avoid expensive re-keying after an employee is lost or keys are lost or copied
Manage visitors to your facility more easily
Restrict access to controlled areas
Use one interface to control access remotely
Our New Jersey Card Entry Systems Provides These Detailed Services
Card Entry Systems
Entry Systems
Key Card Entry System
Swipe Card Entry Systems
Gate Entry Systems
Key Card Entry Systems
Electronic Entry Systems
Access Control Systems
Card Access Systems
Door Entry Systems
Entry Systems in New Jersey
New Jersey Entry Systems
Recent Articles
How To Secure Access To Your Property In New Jersey

When it comes to securing your building or residential community in New Jersey, there are various systems available that will do the job very effectively. You can control the access of all vehicle traffic starting at the entrance or driveway and follow up with a card reader system, a telephone entry system, or an intercom with cameras.

Driveway Gate Installation – Safety, Security and Peace of Mind

As a New Jersey homeowner, you want to do whatever it takes to protect your house, as well as the people and property inside. One essential measure that you can take is getting your driveway gate installation taken care of. While some people think this sounds a bit extreme, there really is no way you can go too far when it comes to safeguarding your loved ones.
If you are looking for New Jersey Card Entry Systems then please call 732-742-9230 or complete our online request form.