Walk-Through Metal Detectors Service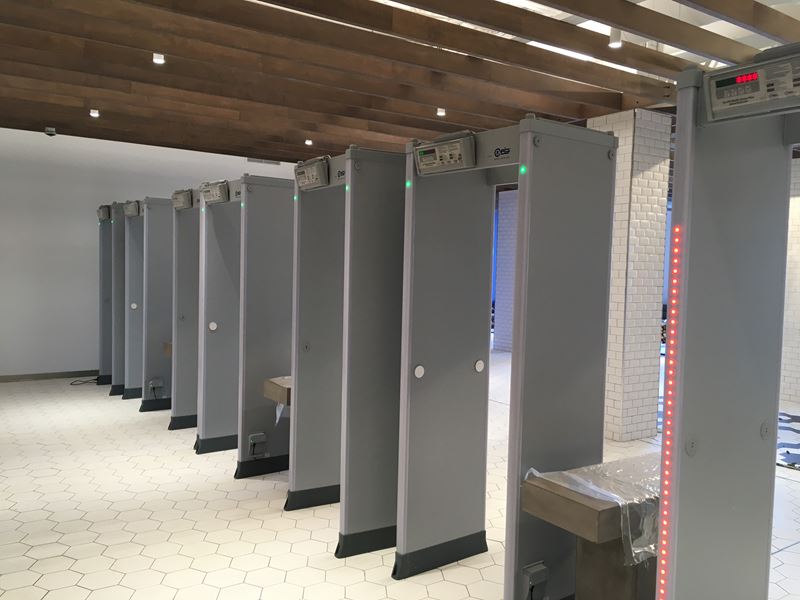 Walk-through metal detectors are an important security solution for many New Jersey businesses, not just for airports and government buildings. At Metro Access Control, we believe that security is very important in today's world. Safety is a priority for schools, hospitals, football stadiums, concert venues, and other places where the public could be at risk.
Our walk through metal detectors can minimize potential threats and increase the security of your commercial property in New Jersey. Our team offers professional security installation as well as training for our clients. When a walk-through metal detector is combined with other safety and security systems, you have the peace of mind knowing that security breaches are minimized.
Metro Access Control offers two of the most noteworthy multi-zone walk-through metal detectors. We install the leading industry Garrett PD 6500i™ Enhanced Pinpoint Walk-Through Metal Detector and the equally desirable CEIA Security Metal Detectors, both of which offer advanced technology for targeting guns, knives, and other weapons.
We would be glad to answer your questions and provide information about our walk-through metal detectors service in New Jersey. Contact us at your convenience to schedule a consultation.
Assessing Your Security Needs
Controlling the flow of foot traffic is important when setting up and operating walk-through metal detectors. If there aren't enough detectors, some individuals in the crow could enter or leave the building without going through the checkpoint. You will need to consider how many you need and at what specific locations they need to be installed. With the right setup, you will be able to control the flow of traffic effectively. We can help you make this assessment during your consultation.
Pinpointing A Security Risk
Our metal detectors are powerful enough to pinpoint the exact location of a possible weapon because the are multi-zone detectors. Single zone detectors can locate a concealed weapon, but not exactly where it is located. It will make a difference if you can respond quickly to a security threat. And when you scan a large volume of people, you will be able to process them quickly.
Our New Jersey Remote Entry Systems Provides These Detailed Services
Remote Entry Systems
Remote Access Systems
Entry Systems
Remote Entry
Telephone Entry Systems
Electronic Entry Systems
Gate Entry Systems
Intercom Access Systems
Intercom Entry Systems
Phone Entry Systems
Entry Systems in New Jersey
New Jersey Entry Systems
Recent Articles
How To Secure Access To Your Property In New Jersey

When it comes to securing your building or residential community in New Jersey, there are various systems available that will do the job very effectively. You can control the access of all vehicle traffic starting at the entrance or driveway and follow up with a card reader system, a telephone entry system, or an intercom with cameras.

Driveway Gate Installation – Safety, Security and Peace of Mind

As a New Jersey homeowner, you want to do whatever it takes to protect your house, as well as the people and property inside. One essential measure that you can take is getting your driveway gate installation taken care of. While some people think this sounds a bit extreme, there really is no way you can go too far when it comes to safeguarding your loved ones.
If you would like more information about our Walk Through Metal Detectors for your New Jersey business or event, please call Metro Access Control at 732-742-9230 or complete our online request form.