New Jersey Magna Lock Systems and Panic Bars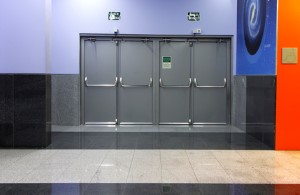 Keeping your New Jersey home or commercial property safe and secure at all times is a major priority. Metro Access Control offers magna lock systems and panic bars to help you ensure that your property is always as safe and secure as possible. We can work with you to help you find the perfect types and models of the products for your property, and we can handle the installation as well as any repairs or maintenance services you may need.
New Jersey Panic Bars help to keep the doors on your property totally safe and completely secure. Magna locks ensure that entry to your property can only occur when it's authorized, while panic bars will allow safe exit for anyone already inside.
Our New Jersey Automated Gates have phenomenal benefits that they can offer to you and your property, and our professionals will ensure that you're able to take full advantage of these products.
How Magna Lock Systems Protect Your New Jersey Commercial Property
Our magna lock systems utilize an electromagnet to forcibly lock doors when energized. The holding force of the electromagnet is designed to be optimal for the load which it has to bear, so your magna lock system will always be effective and efficient.
Magna locks offer a number of advantages that conventional locks cannot. They're extremely durable, and they are very easy to operate. In high-traffic areas where electronic authentication is necessary, magna lock systems are extremely valuable.
Some Advantages of Magna Lock Systems Include:
Ease of installation: Magnetic locks are easier to install than other locks because there are no interconnecting pieces.
Speed of operation: The lock will be immediately unlocked when the power is is cut, which means they'll work much more quickly than other types of locks.
Sturdiness and durability: Conventional locks suffer lots of wear-and-tear from multiple blows during regular use. Magna locks have no moving parts, so they will last much longer.
Magna lock systems can be a fantastic addition to any commercial or industrial property in New Jersey, and our professionals can ensure a swift and reliable installation.
Panic Bars for Emergency Situations
Panic bars, which are also called crash bars, are an excellent way for you to keep your New Jersey commercial or industrial property as safe as possible.
Panic bars are typically found on doors which require emergency exits. Common locations include:
Doors for rooms or buildings with many occupants
Doors located in hazardous areas
Doors for large assembly rooms
If the door is intended only for exit, it does not require a handle on the outside, and handles are often omitted for security reasons. The panic bar will serve as an emergency-only door handle. Our professionals can install panic bars for any building, and we guarantee your complete satisfaction with our work.
Our New Jersey Magna Lock Systems and Panic Bars Provides These Detailed Services
Magna Lock Systems
Magna Lock System
Magna Lock
Magna Lock Rivet
Panic Bars
Panic Bar
Panic Bar Door
Panic Bar Installation
Push Bar Door
Door Push Bar
Magna Lock in New Jersey
New Jersey Panic Bars
Recent Articles
How To Secure Access To Your Property In New Jersey

When it comes to securing your building or residential community in New Jersey, there are various systems available that will do the job very effectively. You can control the access of all vehicle traffic starting at the entrance or driveway and follow up with a card reader system, a telephone entry system, or an intercom with cameras.

Driveway Gate Installation – Safety, Security and Peace of Mind

As a New Jersey homeowner, you want to do whatever it takes to protect your house, as well as the people and property inside. One essential measure that you can take is getting your driveway gate installation taken care of. While some people think this sounds a bit extreme, there really is no way you can go too far when it comes to safeguarding your loved ones.
If you are looking for New Jersey Magna Lock Systems and Panic Bars then please call 732-742-9230 or complete our online request form.