New Jersey Vehicle Detection Systems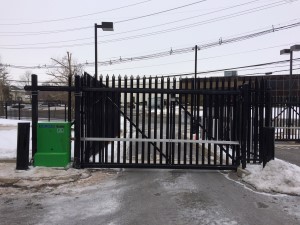 New Jersey Vehicle detection systems (which may also be called inductive-loop traffic detectors) are devices which detect the presence of vehicles passing or arriving at an area. They may be used for traffic lights, parking structures, or gates. Inductive loop vehicle detection is the most reliable and cost-effective method of vehicle detection there is.
The professionals at Metro Access Control can work with you to help you decide whether or not vehicle detection systems could benefit your New Jersey property. If you decide to install a system, we can handle the job from start to finish. We'll also be able to handle any repairs and maintenance services that you may need for your New Jersey Automated Gates.
Give us a call today to begin working on this project, and we'll be looking forward to assisting you.
How Vehicle Detection Systems Work
Our vehicle detection systems are installed in pavement where they create an electrical loop. The electrical unit sends a charge to a wire loop and it creates a continuous loop of electricity. When a vehicle passes over this loop, it decreases the inductance, which then causes the electrical unit to send a pulse to the traffic signal controller or other device.
Vehicle detection systems are often used to track traffic, or they may be used by access gates to make exiting a New Jersey property easier. No matter what you need a vehicle detection system for, our professionals can ensure that it's fully functioning and highly efficient.
Residential Vehicle Detection System Installation
Vehicle detection systems can be an excellent addition to any driveway, especially if you're using an automated gate for your driveway (though there are many other applications as well.). When our professionals are hired to install a vehicle detection system on your New Jersey property, we'll follow these steps:
If you a have a dirt or gravel driveway, the vehicle detection loop can be buried a few inches beneath the dirt or gravel.
If you're installing a a concrete or asphalt driveway, the detection loop can be placed underneath the concrete or asphalt before it's poured or laid.
If you have existing asphalt or concrete driveway, we'll cut a groove into the driveway and insert the vehicle detection loop through the groove. After the installation, we'll refill the groove and seal it with a quality asphalt or concrete sealant.
Our experienced automated gate contractors can help you decide on the best vehicle detection implementation, and we'll recommend the best installation methods.
Our Guarantee
Whether you need a vehicle detection system for an industrial or commercial use, or you're just having the system installed for a residential property in New Jersey, our professionals will always provide you with the highest quality workmanship and professional customer service possible.
Our New Jersey Vehicle Detection Systems Provides These Detailed Services
Vehicle Detection Systems
Vehicle Detection
Loop Detector
Proximity Switch
Proximity Sensors
Motion Sensor
Detection Systems
Vehicle Detection System
Motion Detector
Laser Detector
Vehicle Detection in New Jersey
New Jersey Vehicle Detection
Recent Articles
How To Secure Access To Your Property In New Jersey

When it comes to securing your building or residential community in New Jersey, there are various systems available that will do the job very effectively. You can control the access of all vehicle traffic starting at the entrance or driveway and follow up with a card reader system, a telephone entry system, or an intercom with cameras.

Driveway Gate Installation – Safety, Security and Peace of Mind

As a New Jersey homeowner, you want to do whatever it takes to protect your house, as well as the people and property inside. One essential measure that you can take is getting your driveway gate installation taken care of. While some people think this sounds a bit extreme, there really is no way you can go too far when it comes to safeguarding your loved ones.
If you are looking for New Jersey Vehicle Detection Systems then please call 732-742-9230 or complete our online request form.