New Jersey Security Gates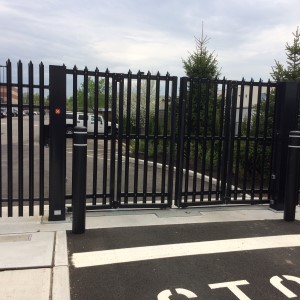 Whether you need a secure automated gate system for a commercial or residential property, the professionals at Metro Access Control can provide you with the products and services that you need. Our New Jersey Security Gate professionals will visit your property and discuss your goals and needs with you, then we'll provide you with a quote for the work, installation, and automation of your security system.
Our New Jersey Automated Gates help home and business owners ensure that their property is kept both private and secure. Automatic gate systems will make security a much more easily reached goal for property they're installed on, whether or not other security measures are in place. Our contractors will work with you directly to make sure you're getting everything you need from the services we provide, and we'll guarantee that your security system and gate integration project is completed on time and within your budget.
Convenience and Security Benefits
Many homeowners in New Jersey choose to have automatic gates installed on their driveways, and in fact, this can be a great way to keep a home as secure as possible, and our security systems will also offer you a great deal of convenience. Our automated gate systems will make your home much more difficult for intruders to access, but they'll allow you to give access to anyone with authorization very conveniently.
Some benefits of residential security gates include:
They can be attractively designed.
They'll increase your property value.
They can lower your insurance rates.
They'll keep your home private and secure.
They require little maintenance.
Of course, these security gates are not only great for residential property, but they're also perfect for any commercial properties. Our professionals can help with either, and we can ensure that your new gate is perfectly integrated with the rest of your existing security system.
Our Security System and Gate Integration Services in New Jersey Include:
Commercial Aluminum Gating
Residential Automatic Swing Gates
Personal Gate Installations
Automatic Sliding Gates
Security System Integration
Automatic Gate Installation and Integration
Our professionals can guarantee that your new security gate is perfectly installed and totally functional. We have years of experience in the industry, and we've worked with all sorts of gates and different types of properties throughout New Jersey, so we'll be able to guarantee your complete satisfaction with all of the services that we provide.
Our security gate systems will be fully integrated into your existing security system, and we'll make sure that you have full control over the gate in the most convenient ways possible. We can provide you with any number of remote access features to give you the most optimal control over the gating system.
Our New Jersey Security Gates Provides These Detailed Services
Security Gates
Security Gate
Folding Security Gates
Driveway Gate
Commercial Security Gates
Iron Security Gates
Storefront Security Gates
Driveway Gates
Metal Security Gates
Folding Security Gate
Security Gates in New Jersey
New Jersey Security Gates
Recent Security Gate Projects
Security Gate Installation Monmouth Executive Airport
Recent Articles
How To Secure Access To Your Property In New Jersey

When it comes to securing your building or residential community in New Jersey, there are various systems available that will do the job very effectively. You can control the access of all vehicle traffic starting at the entrance or driveway and follow up with a card reader system, a telephone entry system, or an intercom with cameras.

Driveway Gate Installation – Safety, Security and Peace of Mind

As a New Jersey homeowner, you want to do whatever it takes to protect your house, as well as the people and property inside. One essential measure that you can take is getting your driveway gate installation taken care of. While some people think this sounds a bit extreme, there really is no way you can go too far when it comes to safeguarding your loved ones.
If you are looking for New Jersey Security Gates then please call 732-742-9230 or complete our online request form.