Security Gate Installation Monmouth Executive Airport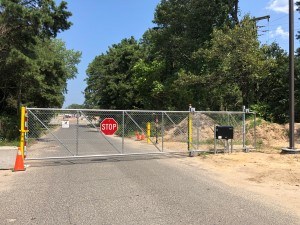 The Monmouth Executive Airport located in Wall Township, NJ has a new Hy-Security HD Smart slide operator security gate. We pick this machine for its reliability, functionality, and ease of installation. The Hy-Security HD I features a 24 volt DC battery back up system Incase of power failure, audible warning during gate movement, and an optional strobe warning light.
The Access System
The access control system is a stand-alone Liftmaster key pad that offers the customer the choice of using a key pad, proxy card, or a combination of the two. The dual height key pad is protected by one of our 6" concrete filled bollards. If you need a
security gate
installed on your property then call the professionals at Metro Access Control.
Hy-Security HD Smart Slide
Liftmaster
Security Gates
Photo Gallery
Recent Articles
How To Secure Access To Your Property In New Jersey

When it comes to securing your building or residential community in New Jersey, there are various systems available that will do the job very effectively. You can control the access of all vehicle traffic starting at the entrance or driveway and follow up with a card reader system, a telephone entry system, or an intercom with cameras.

Driveway Gate Installation – Safety, Security and Peace of Mind

As a New Jersey homeowner, you want to do whatever it takes to protect your house, as well as the people and property inside. One essential measure that you can take is getting your driveway gate installation taken care of. While some people think this sounds a bit extreme, there really is no way you can go too far when it comes to safeguarding your loved ones.
If you are looking for security gates in Monmouth then please call 732-742-9230 or complete our online request form.