Your New York City Automated Gates Specialist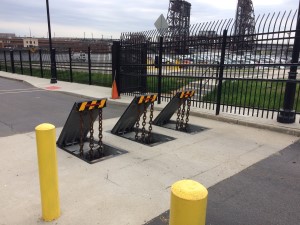 At Metro Access Control we specialize in a wide range of security and access control solutions for commercial and corporate properties across New York City and the surrounding New Jersey area. We are your New Jersey Automated Gates professionals. Our focus is high end system & gate integration including installation, repairs, and ongoing maintenance. We implement safety devices, traffic arms & swing gates, crash rated barriers, vehicle arrest systems, and much more. We are New Jersey licensed and certified in all areas of large scale security and access. We specialize in New York City Automated Gates. We can can custom design your security systems to suit your needs. Contact us today and let us help you secure your property.
Crash Rated Barriers
Metro Access Control can provide and install crash rated materials and products for commercial, industrial, and government applications. Our New Jersey Crash Barriers are often used for power plants, chemical plants, and government buildings. Crash ratings, known in the industry as K-rating, are a Crash Test Certification issued by the DOS (Department of State) to any of these structures that measures the stopping power of barrier in relation the speed and weight of the oncoming vehicle. The K-rating of the barrier is by having a 15,000 pound vehicle impact the barrier from a perpendicular direction.
Traffic Arms & Swing Gate Operators
Traffic arms and swinging gate operators are generally implemented in parking lots and garages. They're also used in other commercial applications such airports and public facilities. These security units can be opened automatically with a keypad, telephone entry system, or card system, or they can be manually controlled from a security booth. Swinging gates can have a simple, rugged design, or they can be elegant and attractive. While swing gates are most frequently used for commercial properties, like parking lots and garages, they can also be used for residential properties.
Physical Security System & Gate Integration
Regardless of how large your security area is we can custom build a security gate that will adequately protect your entryway. Your new security system comes with features that are designed to meet your specific needs. For instance, you can add intercoms, code pads, remote control from inside the building and so much more. We also install cameras around your gates for 24-hour surveillance. Gates come available in different styles and colors that can match your exterior landscape and different sizes that range from minimal to maximum security.
Recent Articles
How To Secure Access To Your Property In New Jersey

When it comes to securing your building or residential community in New Jersey, there are various systems available that will do the job very effectively. You can control the access of all vehicle traffic starting at the entrance or driveway and follow up with a card reader system, a telephone entry system, or an intercom with cameras.

Driveway Gate Installation – Safety, Security and Peace of Mind

As a New Jersey homeowner, you want to do whatever it takes to protect your house, as well as the people and property inside. One essential measure that you can take is getting your driveway gate installation taken care of. While some people think this sounds a bit extreme, there really is no way you can go too far when it comes to safeguarding your loved ones.
If you are looking for New Jersey Automated Gates then please call 732-742-9230 or complete our online request form.