Manhattan's Premier Security & Gate Access Company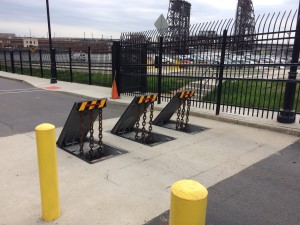 When you want security for your home or business that you can rely on the every time contact Metro Access Control, your New Jersey Automated Gates professionals. We offer a wide range of high-end security solutions that provide ultimate protection for your entire property. From heavy duty gates and traffic arms to electronic detection, safety devices, and card readers, whatever your security needs, we can custom design a system perfect for you. Our services include full installation and setup, complete repairs, and ongoing routine maintenance. We specialize in Manhattan Automated Gates. With Metro Access Control, you get comprehensive service from experienced, seasoned professionals who understand security.
Crash Rated Barriers
Do you want to eliminate total access to a specified area. We can install crash barriers and other impenetrable products for commercial, industrial, and government properties. Our barriers are used for applications that require the highest levels of security such as power plants, chemical plants, and other commercial buildings. They are tested against large vehicles such as construction trucks, semi trucks, and are DOS (Department of State) certified to bring any moving vehicle to an absolute stop within 39 inches of impact. Your barriers can be constructed from metal, reinforced concrete, or natural stone, wood, and industrial grade plastics.
Traffic Arms
Traffic arms are a great way to manage traffic that is entering or exiting your property in New Jersey. Managing a larger commercial property can be difficult, and keeping tabs on who has access to your property can be a major hassle, but traffic arms can help make it much simpler. They're a great way to help you keep your property safe and secure. Our team of experts has extensive experience designing, installing, and maintaining integrated security systems that are designed for the precise needs of our clients. Traffic arms will help you control traffic flow, and our professionals can make sure that your property is as secure as possible.
Gate Operators
With gate operators there are numerous options for you to choose from such as battery backup, vehicle and pedestian sensors, remote controls, numerous models and other components that can be fine tuned for your exact needs. Gate operators can be used for both residential and commercial properties and can be managed at various levels of security. Gate operators allow you to control the flow of traffic as it happens, and also allows you to monitor who gets on the property and who doesn't. There are numerous other accessories you can do to enhance gate operators such as security cameras and even facilities for personnel.
Recent Articles
How To Secure Access To Your Property In New Jersey

When it comes to securing your building or residential community in New Jersey, there are various systems available that will do the job very effectively. You can control the access of all vehicle traffic starting at the entrance or driveway and follow up with a card reader system, a telephone entry system, or an intercom with cameras.

Driveway Gate Installation – Safety, Security and Peace of Mind

As a New Jersey homeowner, you want to do whatever it takes to protect your house, as well as the people and property inside. One essential measure that you can take is getting your driveway gate installation taken care of. While some people think this sounds a bit extreme, there really is no way you can go too far when it comes to safeguarding your loved ones.
If you are looking for Manhattan Automated Gates then please call 732-742-9230 or complete our online request form.