West Orange Automated Gates Specialists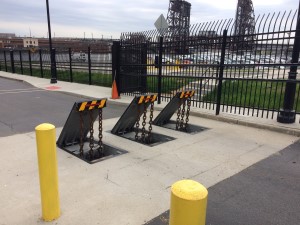 Having a quality West Orange Automated Gate is essential for helping to keep your property safeguarded. If you are considering having an automated gate system installed, you want to feel confident that you are getting the best service possible. You want to select a team of professionals you can work with for follow up service work, long after your gate has been installed.
This is why so many locals rely on the experts at Metro Access Control. Your security and safety are of the utmost importance. So make sure that the products and workmanship invested into this type of project is of the highest quality.
We take the time needed to work with each client in order to find out more about your individual needs. There is no cookie-cutter approach to devising Automated Gates for your property. So don't work with a service provider who tries to handle your project with a one size fits all approach.
Security Systems in West Orange
If you do not already have a security system in place, you may not be aware of the potential benefits you could be enjoying:
Peace of Mind – Having true protection is one thing yet just knowing that your property is protected makes it all worthwhile. Homeowners even report sleeping easier because they feel more relaxed and at ease.
Save Money – Many homeowners insurance providers will lower your premium rates once you have a monitored system in place. The reason for this is that you are considerably lowering your rate of risk for break-ins and other problems.
More Protection – A well-designed system will include other features like fire and carbon monoxide monitoring. Feel good knowing that you are able to provide your loved ones with protection from a number of potential threats.
To find out more all you have to do is give us a call. We look forward to working with you and answering any questions that you may have. This includes making it a point to custom design a system that will work best for your specific needs.
West Orange Service for Automated Gates & More
Just having a gate is not enough, making sure that you are able to keep it functional is what matters the most. Too many home and business owners have an automated gate that they cannot use.
Something malfunctions and, instead of getting quality service work, they revert to living without one. All you have to do is call us here at Metro Access Control so we can fix up your automated gate integration immediately.
West Orange, NJ
Recent Articles
How To Secure Access To Your Property In New Jersey

When it comes to securing your building or residential community in New Jersey, there are various systems available that will do the job very effectively. You can control the access of all vehicle traffic starting at the entrance or driveway and follow up with a card reader system, a telephone entry system, or an intercom with cameras.

Driveway Gate Installation – Safety, Security and Peace of Mind

As a New Jersey homeowner, you want to do whatever it takes to protect your house, as well as the people and property inside. One essential measure that you can take is getting your driveway gate installation taken care of. While some people think this sounds a bit extreme, there really is no way you can go too far when it comes to safeguarding your loved ones.
If you are looking for West Orange Automated Gates then please call 732-742-9230 or complete our online request form.