West New York's Premier Security & Gate Access Company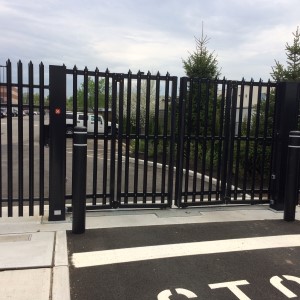 In the market for a West New York security and gate access company and not sure who to call on? Ask around and local home and business owners will agree, the name to trust in is Metro Access Control. We take Automated Gates seriously and that is evident from the flawless reputation that we have established for ourselves.
We partner with both residential and commercial clients, in an effort to customize a security solution that will meet your individual needs. We have the capacity to work with any type of structure; from a small dwelling to corporate settings to large industrial or government buildings. Plus, we offer a variety of vital options so that we can meet your requests and demands.
There is no such thing as too much safety and security. The important thing is not to wait until it is too late to get a security system and gate access in place. Victims of crimes always talk about how they were going to get one, so avoid regretting not acting soon enough.
Security System & Gate Integration Service in West New York
Few people need further convincing, once they realize the core importance of adding a security system or security gate to the residential or commercial property. However, we remain steadfast to showing people the protection they can derive from having both, and integrating the system. Here are a few gate integration more points to ponder:
It is about total protection for you, your family or your staff. Stopping an intruder before they can get into the front door is great. Ceasing their activity before they can even get past the front gate is even better.
Just the visible presence of a security and gate system is enough to discourage a large majority of felonious behavior. Criminals generally seek an easy target, so tend to avoid homes and businesses armed with security measures.
When tastefully done, a security gate can actually enhance the curb appeal of your home. It can be tastefully and tactfully done, without becoming an eyesore or conveying a message of paranoia.
Repairs & Maintenance for Existing Systems
One of the biggest mistakes people make, in relation to their security system, is neglecting to opt for maintenance contracts. We have all seen those homes or businesses with a security gate in place, that obviously is out of order. There is not much point in investing in added safety measures and then neglecting to maintain it. Let Metro Access Control take care of any and all of your security system service needs, including maintenance and emergency repairs.
Recent Articles
How To Secure Access To Your Property In New Jersey

When it comes to securing your building or residential community in New Jersey, there are various systems available that will do the job very effectively. You can control the access of all vehicle traffic starting at the entrance or driveway and follow up with a card reader system, a telephone entry system, or an intercom with cameras.

Driveway Gate Installation – Safety, Security and Peace of Mind

As a New Jersey homeowner, you want to do whatever it takes to protect your house, as well as the people and property inside. One essential measure that you can take is getting your driveway gate installation taken care of. While some people think this sounds a bit extreme, there really is no way you can go too far when it comes to safeguarding your loved ones.
If you are looking for West New York Automated Gates then please call 732-742-9230 or complete our online request form.