Weehawken's Premier Security & Gate Access Company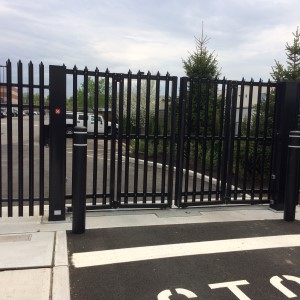 Searching for a reputable Weehawken security and gate access company means that you are in need of protection for your local home or business. No company out there knows this industry, inside and out, like our service experts here at Metro Access Control. We offer a vast selection of essential products and services that serve as innovative solutions.
Safeguarding your home or business, as well as the people inside, is a serious matter. You can feel confident knowing that we take great pride in the work that we do and that shows in the customer satisfaction rating we have earned. Our professional focus is on customization of security system sets ups that will best meet your personal needs.
No two clients are the same and each one requires something unique. Our job is to provide a working solution and our goal is to deliver total client satisfaction. By partnering with us, you receive expert service from seasoned Automated Gates industry experts.
Security System & Gate Integration Service in Weehawken
Whether it is for your residential or commercial structure, having either a security system or security gate is a wise idea. Even better is getting both and having them integrated. If you are still on the fence about whether or not this would be suitable for you, here are some benefits that you should know about:
The most obvious advantage is the additional level of protection it provides you with from intruders. The best part is that simply having this type of security in place is usually enough to deter criminals from targeting your home or business. Criminals seek out places that are easy to gain access without being detected, so tend to move on to another home or business.
Of course, keeping people out is one thing, keeping them in is another benefit. A security system can alert you when someone leaves the building. This is especially important in your home environment when you are trying to keep young children or pets from escaping outside.
Plus, it certainly doesn't hurt that this adds to the property value of your home. Heightening security increases the value and also makes it more desirable to prospective buyers.
Repairs & Maintenance for Existing Systems
What is the point of having a security system, if it is not functional? Once we install your system for you, we will provide you with essential options for maintenance contracts.
Having ongoing service and someone to rely on for emergency repairs is the key to keeping your system operational. Trust in Metro Access Control, in order to get the results that you want.
Recent Articles
How To Secure Access To Your Property In New Jersey

When it comes to securing your building or residential community in New Jersey, there are various systems available that will do the job very effectively. You can control the access of all vehicle traffic starting at the entrance or driveway and follow up with a card reader system, a telephone entry system, or an intercom with cameras.

Driveway Gate Installation – Safety, Security and Peace of Mind

As a New Jersey homeowner, you want to do whatever it takes to protect your house, as well as the people and property inside. One essential measure that you can take is getting your driveway gate installation taken care of. While some people think this sounds a bit extreme, there really is no way you can go too far when it comes to safeguarding your loved ones.
If you are looking for Weehawken Automated Gates then please call 732-742-9230 or complete our online request form.