High-Quality Automated Gates In Roselle Park, NJ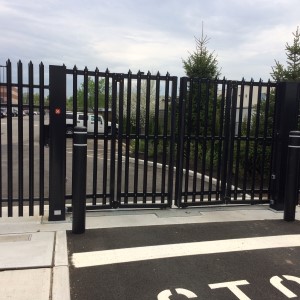 If you're one of the many Roselle Park home or business owners looking to better secure your property, there's no better way to do so than with a brand new automated gate or security system. When it comes to installing or maintaining automated gates or security systems, Metro Access Control is the premier team of Roselle Park automated gate professionals you can count on to get the job done. Are you looking for a professional Roselle Park automated gate company you can trust to help you secure your property like never before? If so, give our team of skilled professionals a call today and let us show you the kind of quality results that have helped make us one of the most trusted names in automated gates and security systems the area has to offer.
Here at Metro Access Control, our team of skilled professionals have years of experience helping Roselle Park home and business owners alike secure and protect their properties. Whether you're in need of new automated gate installation or repairs for your existing automated gate or security system, our team of skilled professionals can provide you with the service you need. If you have any questions about our full line of high-quality automated gate or access system services, or if you would like to schedule an appointment for consultation, give us a call today. Our team of experts are always standing by and would be happy to assist you in any way we can.
Security System & Gate Integration in Roselle Park, NJ
When you're looking to have an automated gate installed on your Roselle Park property for security purposes, it's important to ensure your new gate is properly integrated with your existing security system. Here at Metro Access Control, our team of skilled professionals will work to ensure your new automated gate is setup to function seamlessly within your existing security system. We can even provide you with a wide range of additional features, like card readers, vehicle detection systems, and even telephone entry systems.
Recent Articles
How To Secure Access To Your Property In New Jersey

When it comes to securing your building or residential community in New Jersey, there are various systems available that will do the job very effectively. You can control the access of all vehicle traffic starting at the entrance or driveway and follow up with a card reader system, a telephone entry system, or an intercom with cameras.

Driveway Gate Installation – Safety, Security and Peace of Mind

As a New Jersey homeowner, you want to do whatever it takes to protect your house, as well as the people and property inside. One essential measure that you can take is getting your driveway gate installation taken care of. While some people think this sounds a bit extreme, there really is no way you can go too far when it comes to safeguarding your loved ones.
If you are looking for Roselle Park Automated Gates then please call 732-742-9230 or complete our online request form.