Top Notch Roseland Automated Gates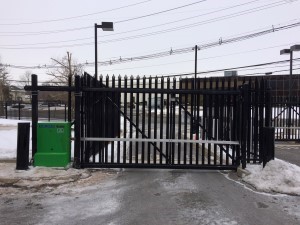 For the finest in service for New Jersey Automated Gates in Roseland, the only name that you need to know is Metro Access Control. We may be a company that is new to the scene but our dedication to superior quality work makes up for it. Not to mention our professional experience in the industry to back us up.
We take this line of work seriously, as it should be! This is truly the first line of defense for your home or business against any type of intruder. The service we provide takes care of tasks like installation, repairs and other maintenance services.
We don't believe in a one size fits all approach to designing an Roseland automated gate system. We will work with you to customize your gate to the right size but also to meet your unique needs. We will also make sure that it has been properly integrated into your security system.
Security Systems in Roseland
There are a variety of types of security systems that you can have installed and we will work with you to ensure that you get everything that you want and need included. Some people want to keep it basic while others want a more elaborate system. Some of the benefits of having a security system in your home or place of business include:
Lower Your Insurance – Even your insurance provider is aware of the fact that having this type of system puts you at a lower risk of things like break ins, vandalism or fires (depending on the system you have.) Being at a lower risk means you are less likely to file a claim which equals savings on your premiums.
Gain Remote Access – Again, depending on the type of system you opt for, a security system can enable you to have remote access to your home. Monitor what's going on, turn off lights or even let in one of the kids who locked themselves out.
Of course, there are plenty of other advantages to having a security system. Give us a call today so that we can review all of this with you.
Roseland Troubleshooting, Maintenance and Repairs for Automated Gates
The right type of automated gate will have capabilities like telephone entry systems, card readers, vehicle detection systems – just to name a few. We take great pride in the work we do and that shows in the results that we get. Let Metro Access Control not just provide you with the work you need but the level of superior work you deserve. Give us a call right now in order to get started.
Recent Articles
How To Secure Access To Your Property In New Jersey

When it comes to securing your building or residential community in New Jersey, there are various systems available that will do the job very effectively. You can control the access of all vehicle traffic starting at the entrance or driveway and follow up with a card reader system, a telephone entry system, or an intercom with cameras.

Driveway Gate Installation – Safety, Security and Peace of Mind

As a New Jersey homeowner, you want to do whatever it takes to protect your house, as well as the people and property inside. One essential measure that you can take is getting your driveway gate installation taken care of. While some people think this sounds a bit extreme, there really is no way you can go too far when it comes to safeguarding your loved ones.
If you are looking for Roseland Automated Gates then please call 732-742-9230 or complete our online request form.