Top Notch Nutley Automated Gates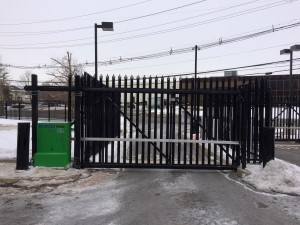 One of the best ways to help keep yourself protected is with New Jersey Automated Gates for your Nutley home or business. Think about how much this can help with saving you the worry of anyone gaining access that doesn't need to. Of course in order to get the service that you need for this, it means having the right company to call on to get the work taken care of. Here at Metro Access Control we can take care of your installation, repairs and other services for a variety of important features – including Nutley automated gates. Your security is as important to us as it is to you. So you can feel confident that we will provide you with the expert care you need to take care of your system.
While we are a newly founded company, our experience and expertise in the field spans much further back. We know what it takes to provide top level security and automated gate services to our clients. Let us show you what a difference it makes to have the quality work you need.
Security Systems in Nutley
Adding and maintaining a security system is one of the best things that you can do. If nothing else, having the peace of mind that you are better protected makes all the difference.
However, some of the other benefits that you can expect include:
Deters Crime – Sure that sounds obvious but think about it. Most people think of a security system helping to capture a criminal already in the act. Having visible signs of a security system helps prevent a criminal from even targeting your place. Burglars or vandals look for a quick and easy target so when they see a system they often move on to another building.
Protect Your Valuables – Again, this may sound obvious but you have to consider that many of your items are irreplaceable. Too many people assume if something happens at least the insurance will cover it. But how do you really replace a family heirloom or a piece of jewelry that has sentimental value.
While there are plenty of other reasons this is a good idea, we can review all of this during our consultation with you.
Nutley Troubleshooting, Maintenance and Repairs for Automated Gates
It is key to keep your automated gate up and running. Too many people settle for inferior service and end up with poor workmanship. This quickly leads to a gate that does not work, which defeats the purpose. For the best in quality materials, installation and other service work, you can count on Metro Access Control.
Recent Articles
How To Secure Access To Your Property In New Jersey

When it comes to securing your building or residential community in New Jersey, there are various systems available that will do the job very effectively. You can control the access of all vehicle traffic starting at the entrance or driveway and follow up with a card reader system, a telephone entry system, or an intercom with cameras.

Driveway Gate Installation – Safety, Security and Peace of Mind

As a New Jersey homeowner, you want to do whatever it takes to protect your house, as well as the people and property inside. One essential measure that you can take is getting your driveway gate installation taken care of. While some people think this sounds a bit extreme, there really is no way you can go too far when it comes to safeguarding your loved ones.
If you are looking for Nutley Automated Gates then please call 732-742-9230 or complete our online request form.