Metuchen, NJ Automated Gates & Access Systems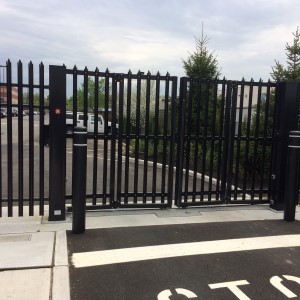 There's no better way to secure your Metuchen property than with Automated gates and access systems from Metro Access Control. We are New Jersey Access Systems specialists who sell, repair, install, and maintain a variety of systems for property security.
Our professionals have years of experience working with different kinds of access systems. We can help you find and install the best systems to suit your particular situation. We work directly with each customer so we can do what is needed to completely satisfy their security needs.
Give us a call for an estimate and let us know what concerns you have. We also offer maintenance contracts to keep your equipment running efficiently and effectively. We take on large and small projects and provide service to residents, commercial, industrial, and governmental municipalities in New Jersey.
Residential Gate Systems
Estate Gates
Pool Enclosures
Commercial & Industrial Gate Systems
Saw Cut Roadways
Vehicle Arrest Systems
Pedestrian Turn Stiles
Swing Gates
Telephone Entry Systems
Intercoms
TWIC Card Clearance
Police Departments
Ports Security Clearances
FBI
Petro Chemical Facilities
and more
Automated Gate Installation For Property Security In Metuchen
Do you have a home or business in East Brunswick that needs a gate? An automated gate is a much better solution that a manual gate. First, it makes accessing your property much easier for those authorized to enter. Second, it keeps other vehicles out.
Ornamental or wood automated estate gates and pool gates are perfect for a homeowner. Automated metal or chain-link gates are perfect for a commercial or industrial business. We sell and install a wide variety of Metuchen automated gate systems. Let us know what you are looking for.
Access Control System Installations In Metuchen
Entry and exit doors are easy for criminals and unwanted guests to access unless you have access security systems installed.
There are several ways you can protect certain doors and other areas of your property from unauthorized entry. Card readers, pedestrian turnstiles, magna locks, touch screens, and remote access solutions help you keep private areas private. They can also log who accesses the door and exactly when the door was accessed.
Metuchen Automated Gate & Access System Repair & Maintenance Services
As specialists in access control systems, you can count on our technicians for repairs and maintenance. We offer services to all of Metuchen and other areas nearby. We also offer emergency repairs for those times you need help right way. We can also help you with upgrades and new installations.
Recent Articles
How To Secure Access To Your Property In New Jersey

When it comes to securing your building or residential community in New Jersey, there are various systems available that will do the job very effectively. You can control the access of all vehicle traffic starting at the entrance or driveway and follow up with a card reader system, a telephone entry system, or an intercom with cameras.

Driveway Gate Installation – Safety, Security and Peace of Mind

As a New Jersey homeowner, you want to do whatever it takes to protect your house, as well as the people and property inside. One essential measure that you can take is getting your driveway gate installation taken care of. While some people think this sounds a bit extreme, there really is no way you can go too far when it comes to safeguarding your loved ones.
If you are looking for Metuchen, NJ Security Gates then please call 732-742-9230 or complete our online request form.