High Quality Jersey City Automated Gates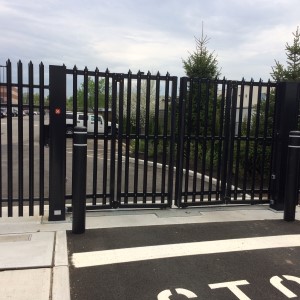 Here at Metro Access Control, we are dedicated to providing high quality Jersey City automated gate installations, repairs, and maintenance services to homeowners and business owners alike in Jersey City and the surrounding areas. The security of your home or business is a serious matter, and we treat it as such. We understand the importance of making quality security options readily available to all of our customers, and we understand that those security measures need to perform well and function efficiently at all times. Our team of professionals can work with you to help you find the perfect automated gate system for your home or business and make sure that it is integrated seamlessly into you existing security system.
Although we may be a new company, our team of professionals have years of experience installing and maintaining automated gate systems for the Jersey City area. We stand behind the quality of our work 100% and we guarantee your satisfaction with our finished results. When you hire our team of professionals, we will come out to your property and custom design your automated gate system and all of its features to be perfectly suited to your property needs. If you have any questions about our automated gate systems, give us a call today and get answer from one of our experts.
Security System & Gate Integration In Jersey City
When you have an automated gate system installed for your home or business, it is absolutely essential that the gate system is integrated into your existing security system. At Metro Access Control, our team of professionals will ensure that your automated gate system is installed in such a way as to give you full access to your gate system in the most convenient ways that also provide you with the most functional utility. In addition, our Jersey City security system and gate integration services can provide you with card readers, vehicle detection, telephone entry systems, and a wide variety of other systems to make sure that your new automated gate system functions exactly how you need it to.
Your automated gate system is the first line in keeping your home and business safe, secure, and private, so it should be able to do so efficiently and effectively. As well as keeping your property safe, however, it also needs to function conveniently so as not to hinder your day to day life and business to your family, employees, and customers. Our team of professionals can make sure that your automated security and gate system is integrated perfectly so as not to disrupt your business or home life.
Jersey City Troubleshooting, Maintenance, & Repairs For Automated Gates
When you have an automated gate system for your residential or business property, it is extremely important to make sure that it stays functioning properly. When you system isn't working like it should, your security can be compromised, and it can impact your ability to go about your daily home and business life. At Metro Access Control, our Jersey City automated gate repair services are guaranteed to get your system back to functioning at peak performance in a time efficient and cost effective manner. We also offer maintenance contracts that can be tailored to suit your specific maintenance needs to make sure that you automated gate system is always up and functioning.
Recent Articles
How To Secure Access To Your Property In New Jersey

When it comes to securing your building or residential community in New Jersey, there are various systems available that will do the job very effectively. You can control the access of all vehicle traffic starting at the entrance or driveway and follow up with a card reader system, a telephone entry system, or an intercom with cameras.

Driveway Gate Installation – Safety, Security and Peace of Mind

As a New Jersey homeowner, you want to do whatever it takes to protect your house, as well as the people and property inside. One essential measure that you can take is getting your driveway gate installation taken care of. While some people think this sounds a bit extreme, there really is no way you can go too far when it comes to safeguarding your loved ones.
If you are looking for automated gate systems in Jersey City, give us a call today at 732-742-9230 or complete our online request form.