Jamesburg, NJ Automated Gates & Access Systems Experts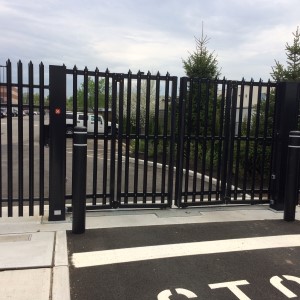 Do you need to limit access to your Jamesburg property with an automated gate or access control system? If so, Metro Access Control is here to help. Over the years, our technicians have installed, repaired, and maintained automated gate and access systems for all types of businesses. We offer residential, commercial, and industrial businesses in the area.
Securing your property is important. We have a number of solutions which we can install to ensure you have complete control over who enters at the driveway or who enters specific areas of your building. We have installed systems for the FBI, New Jersey State Police, and many data centers throughout the tri-state area.
For professional service, give us a call. We'll be glad to help you increase security or maintain your existing security systems in Jamesburg.
Ornamental Estate Gates
Automated Security Gates
Traffic Arms & Swing Gates
Vehicle Detection Systems
Pedestrian Turnstiles
Vehicle Arrest Systems
Automated Pool Gates
Telephone & Intercom Entry Systems
Magna Lock, Card Swipes, & Panic Bars
and more
Automated Gate Installations In Jamesburg
An automated gate is much easier to use than a manual gate. Add some security access technology and the gate can only be accessed by those who are authorized to use it. Apartment and condominium complexes, neighborhood areas, industrial complexes, manufacturing plants, and commercial businesses regularly install this type of automated gate system.
Homeowners can benefit from this type of home security as well. We regularly install Automated gates on pool enclosures and estate entryways. If you have a home or commercial property you need to secure in Jamesburg, call us for an estimate. We sell, install, repair, and maintain Jamesburg automated gates and security access systems.
Vehicle Arrest Systems & Wedge Barriers In Jamesburg
If you are interested in a non-lethal way to stop a vehicle, the vehicle arrest system and wedge barrier are two great options. They are able to slowly and safely bring a vehicle weighing up to 7,500 lbs to a complete stop. They are made to minimize impacts, vehicle damages, and harm to vehicle occupants.
Recent Articles
How To Secure Access To Your Property In New Jersey

When it comes to securing your building or residential community in New Jersey, there are various systems available that will do the job very effectively. You can control the access of all vehicle traffic starting at the entrance or driveway and follow up with a card reader system, a telephone entry system, or an intercom with cameras.

Driveway Gate Installation – Safety, Security and Peace of Mind

As a New Jersey homeowner, you want to do whatever it takes to protect your house, as well as the people and property inside. One essential measure that you can take is getting your driveway gate installation taken care of. While some people think this sounds a bit extreme, there really is no way you can go too far when it comes to safeguarding your loved ones.
If you are looking for Jamesburg, NJ Security Gates then please call 732-742-9230 or complete our online request form.