Fairfield Automated Gates Experts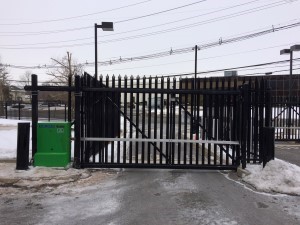 At Metro Access Control, our goal is to help home and business owners keep their automated gate systems in great shape with our design, installation, repair, and other services. We understand the importance of keeping your property secure while also keeping access efficient, so we'll always do whatever it takes to keep every part of your security system in great condition and functioning well. Our professionals can work with you directly to design and install any sort of entry systems and makes sure that they're perfect for your property and any security systems that they're working with.
All of our Fairfield automated gates experts are professionally trained and extensively experienced, so we'll be able to guarantee your complete satisfaction with all of the services we provide. We'll begin the job with an on-site consultation, and we'll custom design the features of your security gate system to make sure that it's perfect for your property.
Give us a call today to schedule your appointment, or to ask any questions you have about the products and services that we provide, and we'll be looking forward to assisting you.
Security System and Gate Integration in Fairfield
If you have an automated gate on your property whose primary function is security, it's very important that it's totally integrated with the rest of your security system. Our professionals can work with you to make sure that your entry access system is always a convenient, functional, and integral part of your security system. Our Fairfield security system and gate integration services include integration for vehicle detection systems, card readers, telephone entry systems, and other systems that can help you keep your entry system as effective and efficient as possible.
Our professionals can help you ensure that your security and entry access system are able to keep your property safe, secure, and private while also providing easy and convenient access to authorized personnel. We'll help you design and maintain a security and gate system that is always effective and efficient.
Fairfield Troubleshooting, Maintenance, and Repairs for Automated Gates
You need any automated gates on your Fairfield property to always be totally functional and reliable, and if you encounter any problems with an automated gate, you need reliable service from a professional you can trust. Our automated gates experts will be able to troubleshoot, diagnose, and repair any problems that you encounter with your automated quickly and professionally so that it's always in excellent condition. Our repairs will always be able as thorough and accurate as possible, and we can provide you with scheduled maintenance on an annual, semi-annual, monthly, or bi-monthly basis.
Recent Articles
If you're looking for automated gate services in Fairfield, call Metro Access Control at 732-742-9230 or complete our online request form.