Edison, NJ Automated Gates & Access Systems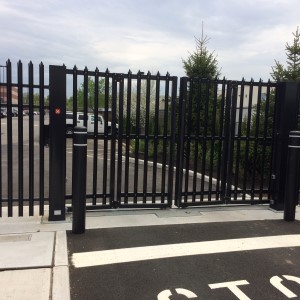 Whether you own a home or a business in Edison, the security of your property and it's inhabitants is important. As a homeowner, you have options other than a security alarm to keep your home and family safe. If you are a commercial or industrial property owner or manager, security systems are vital to controlling who enters and exits certain areas of the property.
Edison Automated gates are highly beneficial for controlling vehicle traffic onto your property. As a first line of defense, they deter criminal behavior at the driveway. Access systems can be installed on all entry doors to the building or home. This gives you a second line of defense where you choose who is allowed to enter or exit certain areas.
If you are interested in discussing some options, call our New Jersey Access Systems specialists at Metro Access Control.
Crash Rated Barriers
Vehicle Arrest Systems
Wedge Barriers
Vehicle Detection Systems
Pedestrian Turnstiles
Magna Lock Systems & Panic Bars
Card Systems: Readers, Swipe, and Proximity
Remote Access: Telephone Entry & Intercoms
Installing Automated Gates For Property Security In Edison
Swimming pool access gates are just as important for homeowners as they are for multi-family or public swimming pools. Too often, children find their way outside where they can fall into the pool. A pool enclosure with access gate helps you control the area so only you or other adults can open the area. We can install access technology on your existing pool enclosure gate or install the complete system for you.
Access Control System Installations In Edison
There are a wide variety of access control systems which can help your Edison business. We also carry a number of home access control systems for homeowners who are interested in the next level of home security.
Combining an access control system with an automated estate gate offers you the ultimate in security for your Edison home. Access can be automated by telephone entry, intercom systems, readers, swipe cards, vehicle detection systems, and proximity systems.
Edison Security Gate & Access Control System Repair & Maintenance Services
Our professionals repair automated gate and access control systems in Edison. We offer emergency repairs as well as maintenance contracts to keep your security systems in good shape. When you have problems with these systems, your property is vulnerable. Let us help you keep them operating as they should.
Recent Articles
How To Secure Access To Your Property In New Jersey

When it comes to securing your building or residential community in New Jersey, there are various systems available that will do the job very effectively. You can control the access of all vehicle traffic starting at the entrance or driveway and follow up with a card reader system, a telephone entry system, or an intercom with cameras.

Driveway Gate Installation – Safety, Security and Peace of Mind

As a New Jersey homeowner, you want to do whatever it takes to protect your house, as well as the people and property inside. One essential measure that you can take is getting your driveway gate installation taken care of. While some people think this sounds a bit extreme, there really is no way you can go too far when it comes to safeguarding your loved ones.
If you are looking for Edison, NJ Security Gates then please call 732-742-9230 or complete our online request form.