Your East Orange Automated Gates Contractors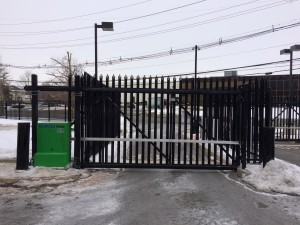 For over a decade the dedicated professionals at Metro Access Control have been helping both home and business owners make their properties safe with advanced security systems and heavy duty gates of the highest quality anywhere in the industry. No matter what your Automated Gate application, there is a system for your. Our East Orange Automated Gates secure driveways, parking lots, entryways, roads and streets, and high security areas. Contact a Metro Access Control technician today and let us help you design a sophisticated security system that works for you!
Pedestrian Turnstiles
Turnstiles offer simple yet effective solution for monitoring and controlling foot traffic. They are standard in subways, arenas, and various government buildings. There are several options and features to choose from. For instant you can install an automatic or manual turnstile. You can get a full height or half-height turnstile. You can also get accessories such as counters, fences and other features. We can add warning and informatin signs, DDA gates for those with disabilities, pedestrian guard rails, lights, colored finishes, and trombone style rotors.
Vehicle Detection Systems
Do you have ongoing traffic in or around your business or government? Then you may benefit from a vehicle detection system. Our detection systems are installed directly into the pavement where they create an electrical loop. The unit sends a charge to a wire loop and creates a constant stream of electricity. When a vehicle passes over this loop, it decreases the flow of electricity, which then causes the electrical unit to send a pulse to the traffic signal controller. Vehicle detection systems are often used to monitor and keep records of traffic, or they may be used by access gates to make exiting a New Jersey property easier.
Vehicle Arrest Systems & Wedge Barriers
Vehicle arrest barriers are designed in to detain someone traveling at high speed inside a vehicle without bringing any harm to them. They are a simple and versatile structure that slowly brings any moving object to a halt while keeping the object in tact with little to no damage. Similar to arrest barriers are wedge barriers include a crash-rated, hydraulic or electric wedge which can broaden or narrow a traffic lane to your exact specifications. Both of these large security devices are built to effectively minimize impact, damage, or fatality when trying to successfully apprehend an offender.
Crash Rated Barriers
Do you want to eliminate total access to a specified area. We can install crash barriers and other impenetrable products for commercial, industrial, and government properties. Our barriers are used for applications that require the highest levels of security such as power plants, chemical plants, and other commercial buildings. They are tested against large vehicles such as construction trucks, semi trucks, and are DOS (Department of State) certified to bring any moving vehicle to an absolute stop within 39 inches of impact. Your barriers can be constructed from metal, reinforced concrete, or natural stone, wood, and industrial grade plastics.
Security System & Gate Integration
Regardless of how large your security area is we can custom build a security gate that will adequately protect your entryway. Your new security system comes with features that are designed to meet your specific needs. For instance, you can add intercoms, code pads, remote control from inside the building and so much more. We also install cameras around your gates for 24-hour surveillance. Gates come available in different styles and colors that can match your exterior landscape and different sizes that range from minimal to maximum security. From heavy duty gates and traffic arms to electronic detection, safety devices, and card readers, whatever your security needs, we can custom design a system perfect for you.
East Orange, NJ
Recent Articles
How To Secure Access To Your Property In New Jersey

When it comes to securing your building or residential community in New Jersey, there are various systems available that will do the job very effectively. You can control the access of all vehicle traffic starting at the entrance or driveway and follow up with a card reader system, a telephone entry system, or an intercom with cameras.

Driveway Gate Installation – Safety, Security and Peace of Mind

As a New Jersey homeowner, you want to do whatever it takes to protect your house, as well as the people and property inside. One essential measure that you can take is getting your driveway gate installation taken care of. While some people think this sounds a bit extreme, there really is no way you can go too far when it comes to safeguarding your loved ones.
If you are looking for East Orange Automated Gates then please call 732-742-9230 or complete our online request form.