Cranbury's Premier Security & Gate Access Company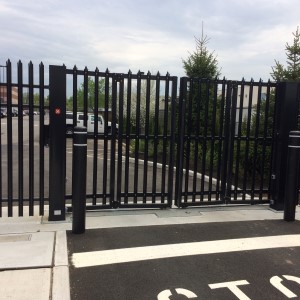 Finding the right Cranbury security and gate access company is all about locating industry specialists who genuinely care about their clients. This is what has helped Metro Access Control earn the reputation that we have, for the decade plus that we have been serving our clients. This is an important line of work and we have been entrusted to help people secure their homes, local businesses and even Fortune 500 companies with Automated Gates.
Each customer that we work with is also unique. We go above and beyond to find out more about what it is that you need, in order to devise a system that will work for you. Our focus is never to just meet your expectations, it is all about exceeding them.
While our innovative systems are sophisticated, they are also comprehensive and simple to use, once we have the opportunity to review it all with you. Take the essential precautionary measures you need, in an attempt to avoid ever experiencing a security breach. Let us help you better understand the options that you have and make good choices about your personalized system.
Security System & Gate Integration Service in Cranbury
Some people have just a security system, while others opt for just a security gate. Yet wise home and business owners, as well as savvy consumers, opt for both. An integrated security system is like maximizing your capabilities to be protected. This is a good idea because:
The hope is always to stop an intruder before they can get past the front door. However, it makes even more sense to want to try to prevent them from even getting past the front gate. The more distance you can put between yourself and a criminal the better.
Did you know that a quality security system will increase the property value of your home or business? So, the more extensive the system, the higher the increase. Think of your upfront cost as an investment as opposed to an expense.
These are just a few examples of how you can benefit from an integrated system. Let us tell you more about it, during our consultation.
Repairs & Maintenance for Existing Systems
One of the most essential services you need is one that too many people often neglect to sign up for – maintenance. What good is your system if you cannot make sure that it is in proper working condition? Let Metro Access Control provide you with the service you need to keep your security up and running. We look forward to working with you and providing you with the service that you want and need.
Recent Articles
How To Secure Access To Your Property In New Jersey

When it comes to securing your building or residential community in New Jersey, there are various systems available that will do the job very effectively. You can control the access of all vehicle traffic starting at the entrance or driveway and follow up with a card reader system, a telephone entry system, or an intercom with cameras.

Driveway Gate Installation – Safety, Security and Peace of Mind

As a New Jersey homeowner, you want to do whatever it takes to protect your house, as well as the people and property inside. One essential measure that you can take is getting your driveway gate installation taken care of. While some people think this sounds a bit extreme, there really is no way you can go too far when it comes to safeguarding your loved ones.
If you are looking for Cranbury Automated Gates then please call 732-742-9230 or complete our online request form.