Top Notch Verona Automated Gates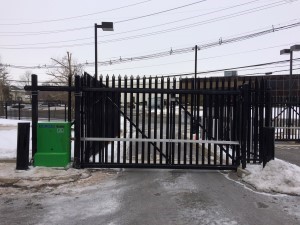 If you are considering adding New Jersey Automated Gates to your Verona property, you may not know where to start. Or maybe you already have them in place but they are not really functional because an inferior company installed them. Either way, Metro Access Control can take care of this for you.
Our name may be newer to the local industry but it has also quickly become synonymous with superior quality. We use only the best materials and products and take the time to find out more about custom designing your gate. The bottom line is that this is supposed to offer you protection which would not be possible without having the best in craftsmanship, as well. We will also take the time to discuss with you the options that you have so you can feel good about the final outcome. This is your gate and you property and you should be certain that work being done will get the job done. Don't settle for less than the best when it comes to your Verona automated gates, or any system in place to offer you protection.
Security Systems in Verona
One of the most tragic things we hear at Metro Access Control is when a new client comes to us for a security system and has already had a break in. We hear a lot of "I was about to get one" or "I didn't really think I needed one." The truth of the matter is that it never hurts to have the added protection, so why not do it?
Many people also do not realize that just having a system in place can help deter criminal activity. When a burglar or vandal is seeking a place to select as a target, they want it to be as easy one. So if you obviously have a measure of protection in place, this automatically greatly reduces the likelihood of you being picked.
Not to mention most people also report, once they have a system in place, they have so much peace of mind. Just knowing that you are protecting your home, business, loved ones and property reduces your anxiety.
Verona Troubleshooting, Maintenance and Repairs for Automated Gates
The good news is that you can also count on us for maintenance work for these systems as well. Don't put up with an automated gate that isn't working. Let us provide you with excellence,right from the start. Or, at the very least, improve the system you already have in place from another service provider. We look forward to working with you, here at Metro Access Control, and getting your system up and running.
Recent Articles
How To Secure Access To Your Property In New Jersey

When it comes to securing your building or residential community in New Jersey, there are various systems available that will do the job very effectively. You can control the access of all vehicle traffic starting at the entrance or driveway and follow up with a card reader system, a telephone entry system, or an intercom with cameras.

Driveway Gate Installation – Safety, Security and Peace of Mind

As a New Jersey homeowner, you want to do whatever it takes to protect your house, as well as the people and property inside. One essential measure that you can take is getting your driveway gate installation taken care of. While some people think this sounds a bit extreme, there really is no way you can go too far when it comes to safeguarding your loved ones.
If you are looking for Verona Automated Gates then please call 732-742-9230 or complete our online request form.