What Are the "K Ratings" for Crash Rated Barriers?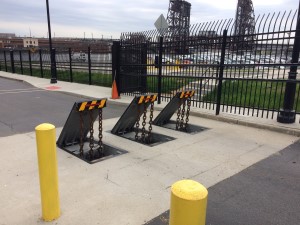 When you're looking to install a crash rated barrier on any property, it's very important that you know you're getting the amount of protection you need. The standards for rating these barriers were created by the Department of State (DOS) to help to quantify the ability of crash rated barriers to prevent a vehicle from entering a perimeter or building. According to their standards, the vehicle should not be able to penetrate the perimeter more than 36 inches bast the bed of the gate.
The ratings measure the stopping power of a barrier in relation to the speed and weight of a vehicle. The higher the K-rating, the faster the vehicle could be traveling without breaking through the barrier. These test ratings have been used to issue contracts since the year 2000, and they are as follows:
K4: Met the crash rating standards with a 15,000 pound vehicle traveling at 30 mph.
K8: Met the crash rating standards with a 15,000 pound vehicle traveling at 40 mph.
K12: Met the crash rating standards with a 15,000 pound vehicle traveling at 50 mph.
The New Jersey crash rated barrier experts at Metro Access Control can help you decide which K-rating you need for your property during our consultation and installation services.
When Do You Need to Use K-Rated Crash Barriers?
Crash-rated barriers are used in many different commercial, industrial, and governmental applications. They may also be used for high profile private residences and estates in New Jersey. These gates are often used for:
Power Plants
Fuel Depots
Chemical Plants
Federal and State Government Buildings
Military Installations
How Do Crash Rated Barriers Achieve Their K Ratings?
Crash rated barriers are able to prevent entry with the addition of cables and beam reinforcements. There may be active barriers, like wedge barriers, pop-up bollards, or drop arms, which generally achieve their K ratings through enhanced materials and foundations. They may use heavier gauges of steel anchored with into reinforced concrete footings, for instance.
Our crash rated barriers will be able to provide your New Jersey property with the highest levels of protection. Our Crash Rated Barriers Are All Certified By the DOS.
All of the crash rated barriers that our New Jersey automated gate experts provide are K-Rated and certified by the DOS. We can guarantee the highest quality barriers possible, and we'll be able to ensure that your barrier is installed professionally.
If you are looking for K Ratings for Crash Rated Barriers in New Jersey then please call 732-742-9230 or complete our online request form.